Fake Military Kukri's, and how to spot them.
The great thing about living in the UK and collecting kukris is the abundance.
When I first started ten or so years ago, you were virtually guaranteed to stumble across a kukri in a junk shop or at a decent sized antiques fair.
However, as the bug took hold I wanted to find more kukris and stumbled across the military patterns. By this I mean kukris that were purchased by the British, Indian and Nepalese Governments for issue to their troops.
Being inexperienced I went along to a Militaria fair and purchased from a dealer. It wasn't until I did my homework and posted on the SFI kukri forum that I learned I had bought a fake.
It was my blunder which prompted Andreas Volk to write the first incarnation of this article. Andreas taught me a lot about kukris, and I feel it is time to repay that favour in kind, and update his article so future collectors will not stumble into the trap which I did.
So what is a fake?
This has been discussed a few times – but for the purpose of this article is as follows:
This can be either:
1: a "replica" which has been stamped with original markings as sold by various websites around the world, for "collecting purposes" or re-enactment.
2: a genuine old kukri which has been spuriously marked for the purposes of fraudulent resale.
The replica does not start out life as a fake, but invariably will be sold as genuine if it falls into the wrong hands, be them either ignorant or fraudulent.
The genuine old kukri likewise does not start life as a fake, but once those spurious markings have been added it becomes one.
Once this metamorphosis takes place they pose a threat to genuine collectors, especially the novice. Do not despair, read on and this article will guide you through this mire.
So our checklist so far is:
- The adding of false military stamps and marks to a genuine blade.
-Modern manufacture collectors/re-enactors replicas, with genuine looking stamps.
- Artificially aging a modern blade to make it look "antique"
- remounting a modern blade in an old handle and selling the whole thing as "antique"
-Modern kukris made to older patterns for hunting/camping etc.
This article does not wish to demonise modern kukri manufacture. Lots of collectors have both types in their collections, and judge them on their own merits.
Replicas have the right to exist in their own segments of the market.
The good news is that the kukri market in itself is rather small. Generally speaking we don't have to contend with the masses of fakes seen with Nihon-to, Nazi, or Napoleonic era, etc.
However the militaria market is huge. And most serious collectors of military equipment from the World Wars want at least one marked kukri from their chosen period. That is why military marked pieces with matching sheaths sometimes reach far higher prices than significantly older Victorian kukris - and that is why we see a lot of fakes in that area of the market.
Before we proceed further I would urge you to read Jonathan's (Spiral) excellent article on the Military Kukri Patterns:
viewtopic.php?f=4&t=1201
It will make sense of everything that follows below:
1. The brass mounted WW1 stamped kukri in leather scabbard.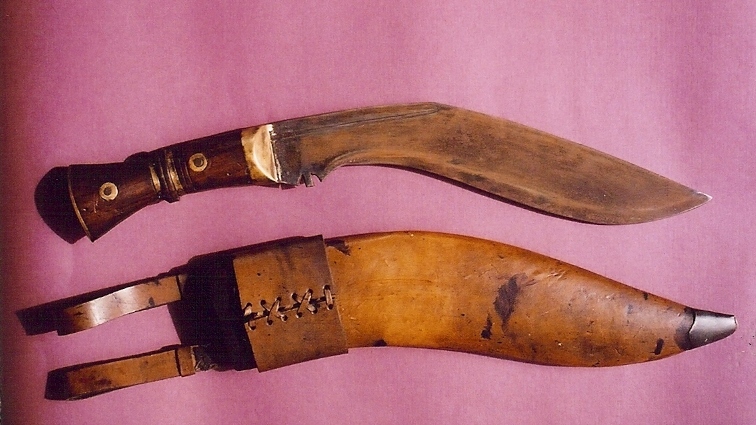 FIG 1: Overall picture of the most common fake
These kukris are produced somewhere in India or Pakistan and are usually labelled "Standard WW1 Pattern". They can usually be bought for about £20-40 from various retailers and when sold as that, then everything is fine. (leaving aside the fact that such a pattern of kukri never existed, they are infact a Frankenstein mixture of various designs).
The problem occurs when the unscrupulous give these modern beasts an "antique finish" and pass them off as genuine. This problem is compounded as some also come housed in a brown "aged" scabbard - as shown in the picture above, direct from the factory. Study Jonathan's article, you can easily see the differences, especially the brass chape.
Throw in some false stamps and you have a kukri from 1917.
This "replica kukri" with MKII stamps from WW1 added is the most common kukri fake we see today.
It comes with two blade types (angled spine and round spine - please remember: neither the MKI nor the MKII have
an angled spine) and it has many details that can betray that it is fake.
The easiest way is to look closely at the grip:
It is mounted with a brass bolster, rivetted, with brass bands around the grip and - in most cases crowned with a brass pommel cap.
Too much brass! Brass was a restricted material, and was not used on military kukris until post WW2, (the MKV) with the exception of rivets and rivet casings.
Actually this design is a hybrid based on two types of handles:
1. The brass bands come from a type privately produced during and after WW2. These examples sometimes carry "Military Supply Syndicate" and "Genuine" stamps to the blade. Such kukris are perfectly legitimate, but were not officially issued nor produced pre 1942.
2. The MKIII grip design with its wide middle ring, thinner waist and the large rivets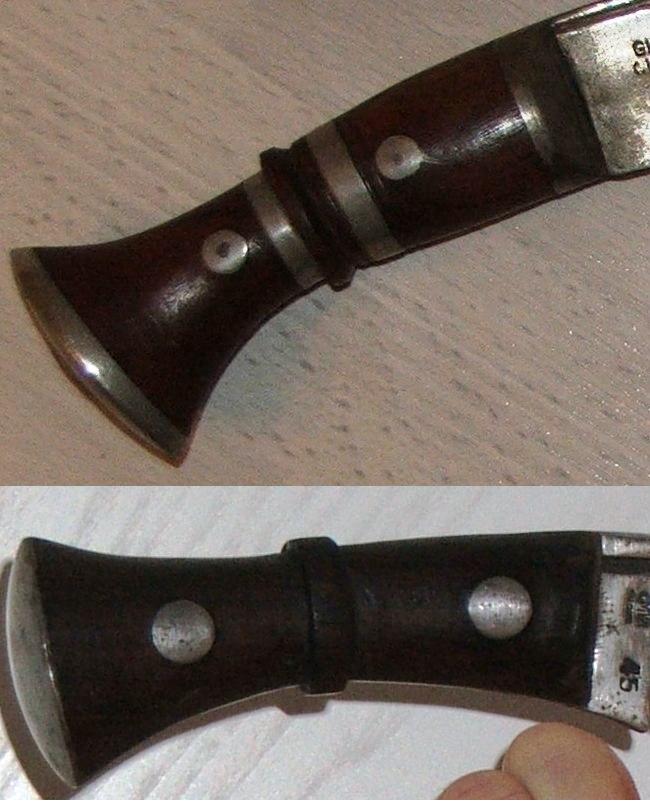 FIG 2&3, top: Grip from a "Genuine" stamped kukri , bottom: grip of a MKIII from WW2
From this one can see that not only did such grips not exist in WW1, one of them might not even have existed in WW2!
The grip of a WW1 MKII looks entirely different. The grip has a curve in itself, not that much waist and two thin
middle rings. There also are NO "metal rings" in the MKII design.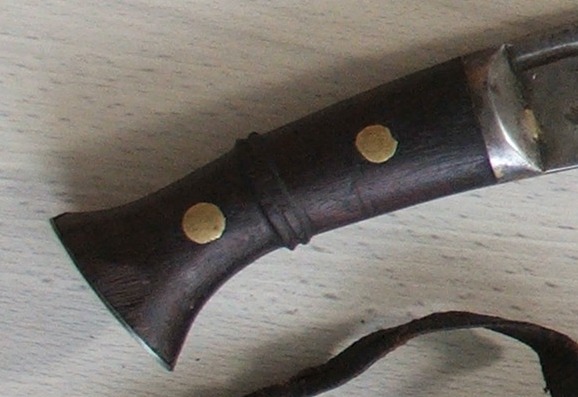 FIG 4: Grip of a 1918 stamped MKII from Cossipore arsenal
The stamp on these fakes is the next important feature to look at. Below a correct WW1 MKII stamp: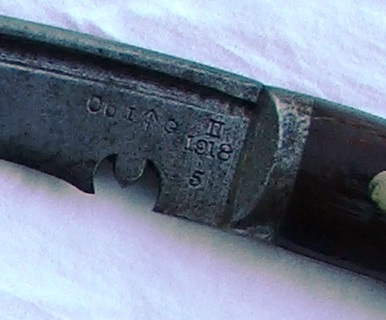 FIG 5
We'll begin by deciphering what that stamp actually means:
CO - the maker, Cossipore Arsenal in India
I arrow G - the Indian governmental mark with the British broad arrow (Pheon) denoting official ownership.
II - MK II (the model number)
1918 - the year
5 inspection number
Now looking at the fake MKII stamp one can see that it is far smaller than the original stamp, which is the biggest warning sign. Probably resized from an original stamping, as all the elements are there.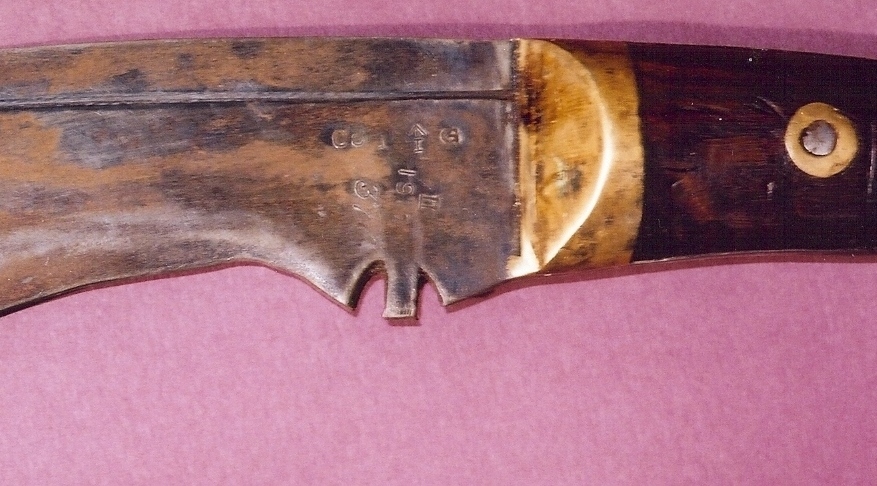 FIG 6: stamp on the most common type of MKII WW1 fake
According to this stamp we are looking at a MKII, made by Cossipore in 1917, with the inspection number 37.
Stamp size aside, note that part of the stamping has been made at 90 degrees to the blade. Whilst some WW2 period makers marks can be found at this angle, it is a definite indication of fakery when coupled with a WW1 date.
More recent incarnations of this stamping have seen the font size much larger, more in keeping with an original. If in doubt look carefully, the fact that the stamping has been made all at once, rather than individually, should also raise alarm.
Other key indicators are the thin blade fuller, and the small size of the kaudi.
Despite this, the body of the kukri the stamps are found on should always raise the first warning signs.
Luckily the fraudsters at the moment only seem to have a limited amount of numbers, which leads to only a limited
variety of combinations.
Suspicious are MKIIs from 1916 or 1917 with inspection numbers so far: 37, 35, 43
One thing to remember when trying to detect a fake stamp from a genuine one is that sometimes the original stamping wasn't always that well "organized". The 1918 stamped piece above is an ideal example(Fig 6) of how most genuine Mk II are laid out.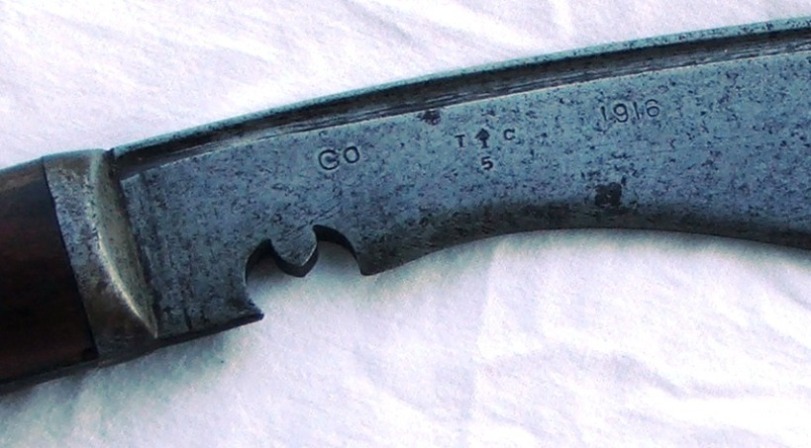 FIG 7: An odd but correct stamp from 1916
However, there are always exceptions to the rule. Fig 7 illustrates a Cossipore example which has its markings spread across the blade. In this case the broad arrow is
unusually small and the II for MKII is either missing or has worn off.
Nevertheless The "Co" is the correct one, the arrow (even though small) is in "one piece" is genuine.
2. The MKIII handled MKII

The second most common MKII fake is this "bolsterless" piece, that is to say a handle made by riveting two fat slabs of timber to the tang, without the need for a bolster. The WW2 produced MKIII was the first design without a bolster-hence the title!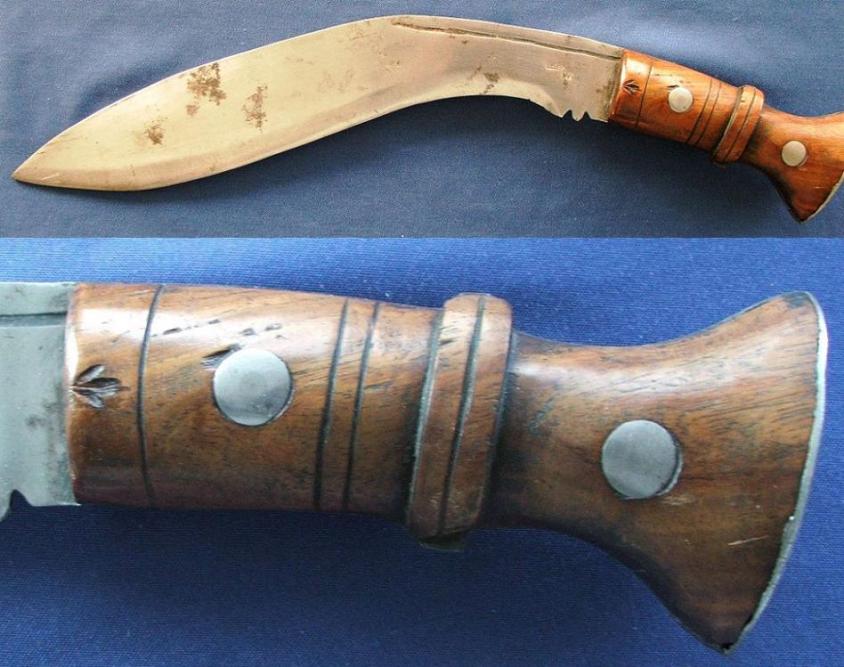 FIG 8: bolster-less MKII fake with closeup of grip
This is the type of fake that fooled me, and also Andreas. The chunky, ugly grip is the main characteristic of this piece. The double middle ring of the MKII is just hinted (actually
just a line scratched into a massive middle ring) and again: if you have an MKII stamped kukri and no bolster, it has either been rehandled or it isn't an MKII.
The majority of these examples come with a "sort of shoulder" in the spine. It isn't completely round like a MKII ought to be but neither does it show the pronounced angle as a genuine MKIII would. (did I use the word "ugly" already?)
This example also has a crude broad arrow on the grip an attempt to mimic the small military inspection stamp.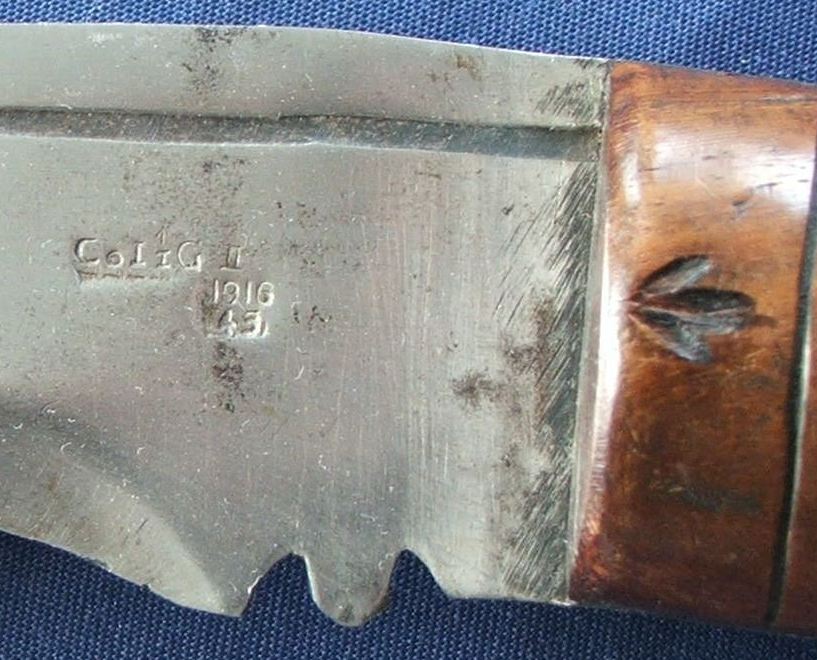 FIG 9: faked Co Stamp on my MKII with MKIII grip
These markings (FIG 9) are actually identical to the brass mounted fakes already shown, probably produced by same "fraud workshop".
This kukri also comes in a version that is harder to spot. The spine is round and the grip is a bit more slender
with an actually nice looking waist.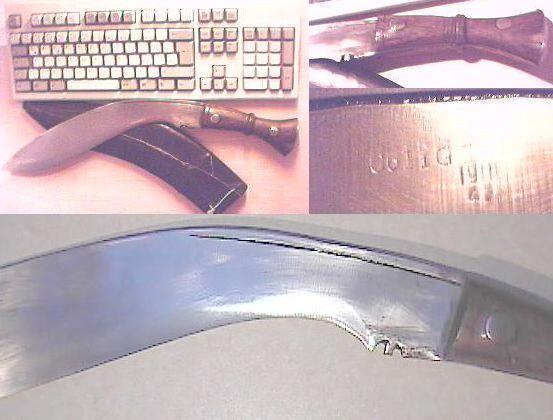 FIG 10: Picture of the overall shape of the 2nd version on top, detail of the spine below - please compare with FIG 9
(IMAGE courtesy of araldis)
This is the deluxe edition of this fake. Our thanks to German collector known only as "araldis" for sharing the pictures of his fake.
Notice the lack of bolster as a main indicator along with the extremely small and very sloppy executed kauri on both examples.
This fake also carries the same stamp "1916, 43" as figure 9, another suggestion that these fake "cousins" were produced by the same factory.
Both of those fakes may be found in different scabbards, some of them tourist grade scabbards covered with cloth (well faded/ washed green or brown) but also camouflage and a not too bad knock off of a MKII scabbard.
3. The stamped tourist / MKV

While types 1. and 2. are MKII fakes, the third most common fraud is to take one of the many mainstream production models either identical to the MKV or bearing some resemblance, aged artificially with some random numbers or letters and then sold as an authentic WW2 military bring back.
The piece below was sold to its owner as "service No1 from WW2".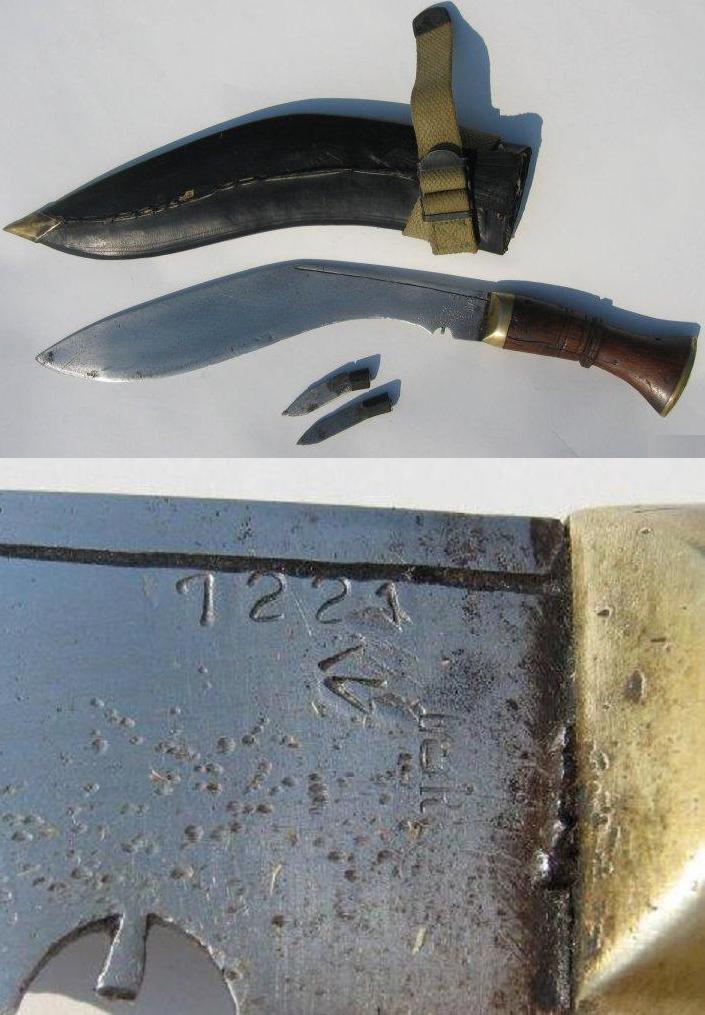 FIG 11 A modern kukri, altered to resemble a WW2 piece, overall picture and detail of stamps,
(Image courtesy of Kristof Verjans)
The term "service No1" is synonymous to the MKV, but as it can be seen the kukri shown is a MKIII. What it has in common with the MKV are the brass mounts and the full grip with bolster(here made of wood instead of horn).
The four digit soldier number isn't too bad, although by this point in time soldiers numbers were into the six and seven digit range. The broad arrow on the other hand is clumsy, struck using three strikes. A real broad arrow is always punched in as whole.
The next is the "pitting" created with an awl hitting the blade repeatedly. The clumsy faker missed a few strikes and also hit the bolster, which is another useful indicator.
If the pitting is to "similar" (I.E. same depth of pitting, equally distributed, all spots of similar size, etc.) then there is a good chance that the pitting is artificial.
A military webbing strap has been wrapped around the tourist type scabbard to portray its military heritage.
Hey presto, a rather boring kukri becomes a bring back from WW2 .....
It's also worth bearing in mind that modern interpretations of a Mk II, MK III and MKV are still being produced, and have been embellished with crude soldier numbers, dates, and names and sold as WW1, WW2 .
Study Jonathan's pattern kukri article, learn the patterns, and compare these with what you are being offered..
4. The "Authentic fake"

There is a fourth and very hard to spot fake out there that as a collector I find is the most upsetting.
These are produced by two particular individuals, one of which regularly sold his fraudulent wares via Ebay at the rate of one per month for many years.
He actually uses authentic , unstamped kukris from the era in question (WW2 or even earlier) and puts
fake military stamps (from prominent makers, gurkha units, etc.) on them.
By doing this he ruins genuine, authentic kukri, and makes them worthless.
Some of the ruined kukris are ironically worth more as genuine antiques, so bearing in mind how many bidders he loses compared to those he manages to deceive, I doubt that overall his profit margin is remarkably high.
Attachment:
Fakekuk2.jpg [ 255.27 KiB | Viewed 5648 times ]
FIG 12: A 1914 dated fake. The Kukri itself appears to be a private purchase WW2 MKII. Especially dumb as MKII didn't come about until 1915.....
Attachment:
Fakekuk - Copy.jpg [ 50.6 KiB | Viewed 5648 times ]
FIG 13: A Close up of the fake markings, note the font used for the date, and the size, along with the small kaudi.
These are four of the most common types of kukri fakes that the new collector will see when trawling the internet. There are others, and in time I shall add to this page.
Thanks
Andreas Volk put the original article together some years ago, and he put in the hard work. I have added some information, and changed some sections for the sake of clarity.
Lots of what we have learned in the intervening period is down to certain individuals who have deveoted thioer time and effort to researching, and to those who have shared their kukris with us. To those people I say "thank you".
Every kukri that is shown on IKRHS - no matter how beaten up or simple it may look can teach us vital details. When studying fakes the details of low end production kukris are of special interest. As the fraudsters are looking for maximum margins they usually take mass produced pieces that are easy to come by for little money. So if features of such pieces are found again on a "piece with history" alarm bells should go off.
It is easy to post pictures of a neat, breath taking, pre 1900 kothimora and collect the congratulations and the envy of fellow collectors.
It takes a completely different attitude to admit that one has been ripped off and instead hiding away (or even reselling) the fake, to step up and point it out, so that others can protect themselves against the loss of money and disappointment. So thanks to those who contributed pictures to this thread.
Legal stuff

The pictures underlined with the words "Image courtesy of araldis" and "Image courtesy of Kristof Verjans" are the private property of these Gentlemen and are used in this post with their kind permission. They are copyrighted and reproduction or reuse is prohibited.
For the rest of the info including pictures and text I make no copyright claims. The more people know about the fakes the better.
So feel free to quote or repost, I only ask that you add a link to the article here at IKRHS.
The fraudsters are getting better all the time. You can bet that they have access to this forum, and will read this article and amend their production methods accordingly.
It is a damned if you do, and damned if you don't scenario, but these fakes are already well established, and so if we can prevent one person from falling for these, then it is well worth the time and effort.
Remember, if you are in doubt, join the forum and post up a question, we are always happy to help.
The best of luck with your next kukri purchase!!
Kind Regards
Chris