Hello Gents,
I don't think there's much here of interest for our regular members, but I thought I'd post them up to give newer members and lurkers a chance to add some interesting kukris to their collections.
Sadly I have to part with a significant chunk of my kukri collection.
First up, a kukri often referred to by collectors as a "Military Sirupate". This is a WWII era kukri that is relatively small, slim and fast. Despite its light weight it has a pronounced forward balance that means the kukri retains lots of punch for chopping tasks. If you tuned up the edge this would make an excellent kukri for bushcraft / camp tool. It is small and light enough to use for food prep, powerful enough to chop and split wood. The scabbard is in a bit of a state. It would be pretty straight forward to wrap it in canvas to tidy it up a bit and stop it from flaking leather into your backpack. A very handy vintage tool, yours for £80.00 inc. RMSD. This is a bargain, less expensive than a modern replica and £20 less than I paid for it. Payment by bank transfer or Paypal if you cover the fees.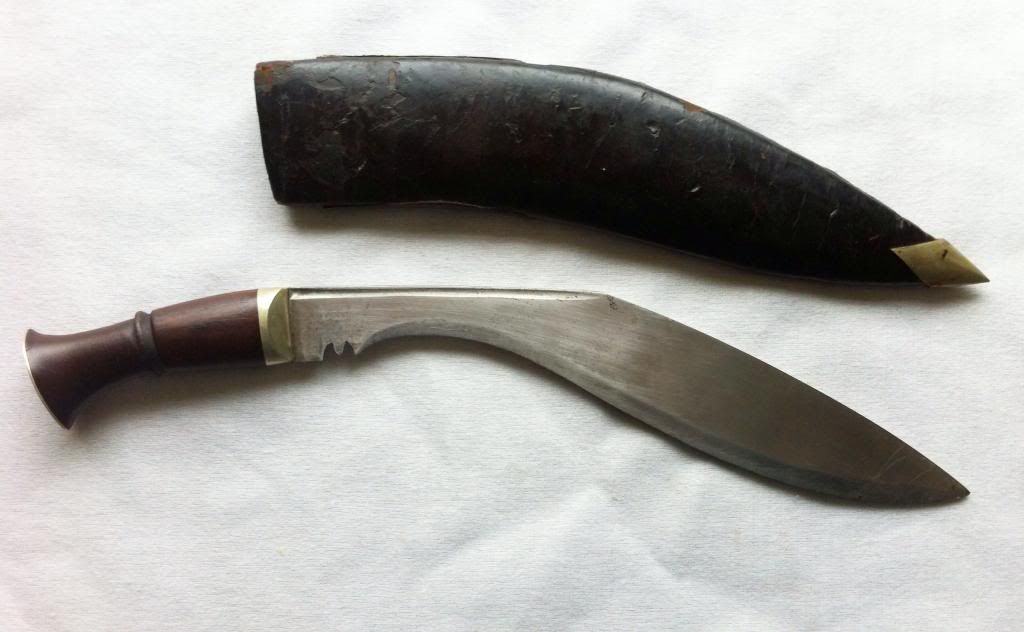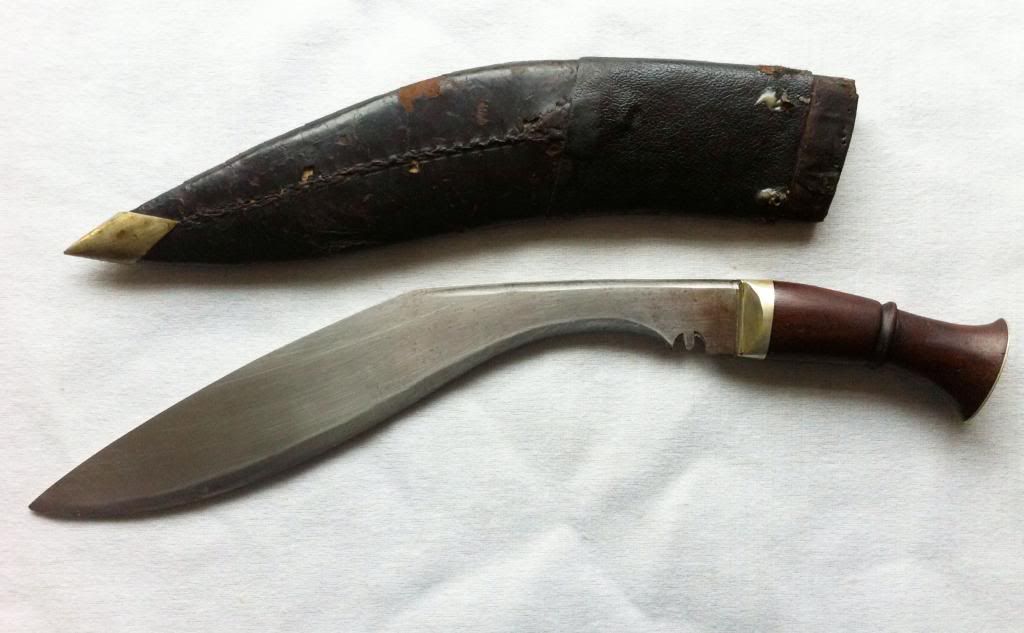 Next, I have this WWI era Battalion style kukri, still bearing the faint 4 digit number of the rifleman to whom it belonged (3662 or 3002 is my best guess). It is stick tang construction, with a solid heavy blade. There is a beautiful patina to blade and wood, this kukri has tons of character. Just the bare blade with this one. £90.00 inc. RMSD.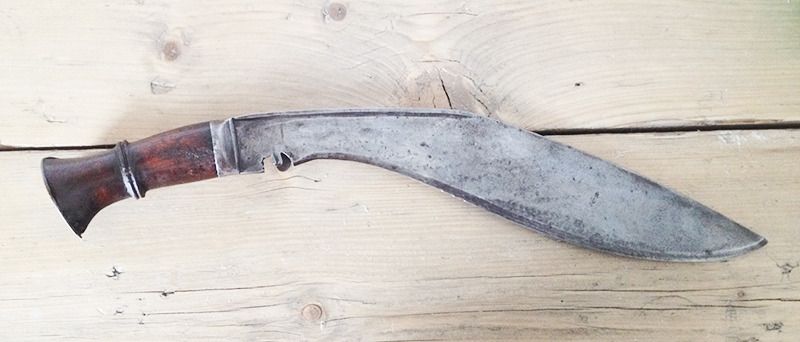 This is a WWII era MKIII. Most likely it was privately purchased by a British serviceman from one of the many bazars in India that stocked these blades. The handle and scabbard bear the initials GRT. It seems that a fair number of servicemen wanted to add a kukri to their kit and this MKIII design (introduced in 1944) was one of the more basic and tough designs. It has a full width tang and slab handles without a bolster. This is a real workhorse of a blade. When I first tested it out there was a tiny bit of play in the scales. I injected epoxy resin under the loose section and clamped it tight, since then it has been rock solid. It has it's original scabbard and frog, though the frog would need to be repaired to be of any use (see pics). Personally I'd never wear such a large blade on my belt, it's only ever in a pack (or the shed). A heavyweight vintage tool, yours for £70.00 inc. RMSD.
**PICS TO FOLLOW SOON**
This is a beautifully made dui chirra (two fuller) kukri. This type of kukri is generally associated with Officers around the 1930's (It is also struck with a mark that is mostly associated with kukri belonging to Brit Indian Officers) It has some very nice silver trim on the scabbard and bands around the horn handle. It is a very nicely balanced kukri and as an overall package it is one of the best quality kukris in my collection. There is however a 1" split in the back of the scabbard where a previous owner stabbed the tip of the kukri through the back when carelessly sheathing the blade. £150.00 inc. RMSD. **SOLD**
This is probably WWI era. A nice example of an angkhola (single fuller) kukri. The fuller has been skilfully done to create perfect balance in the blade. Though heavier than the Military Sirupate I am selling, it feels lighter because of the exceptional balance. It has a beautifully curved (slightly green) horn handle with a silver plated buttcap. Complete with scabbard, two kardas and loop (detached). The scabbard on this blade has the softest leather of any in my collection. It is a high quality piece, possibly a private purchase by an Officer. £130.00 inc. RMSD.[COLOR="#FF0000"]
**SOLD**
[/COLOR]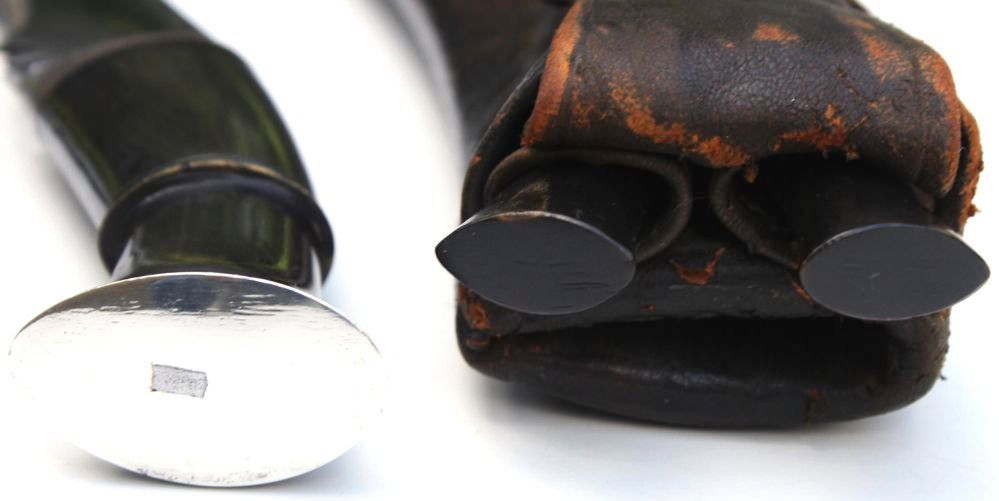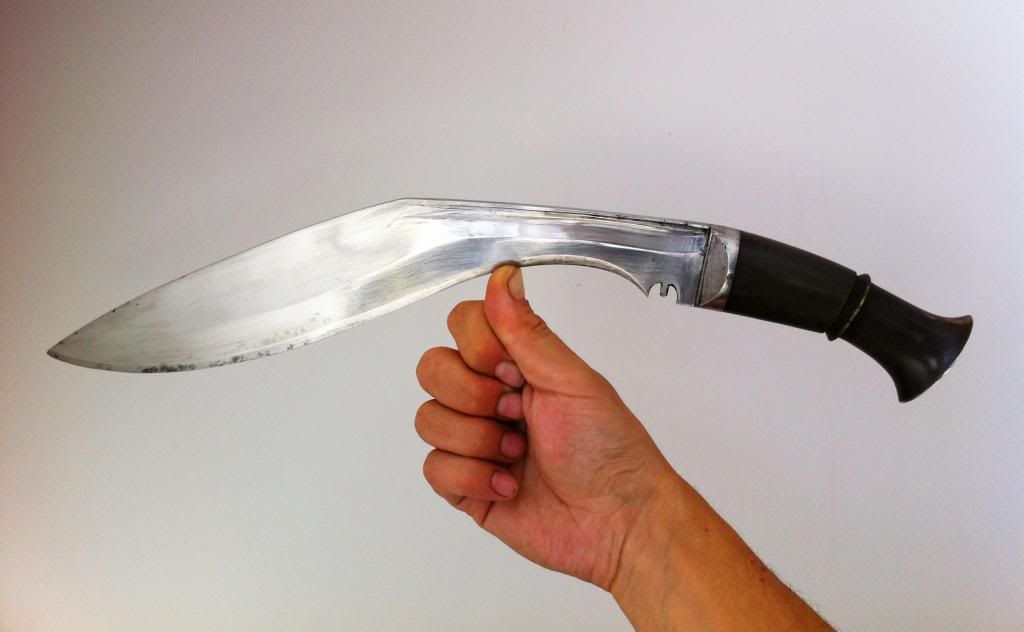 If you'd like specs or extra pics, just PM and I'll sort them out.